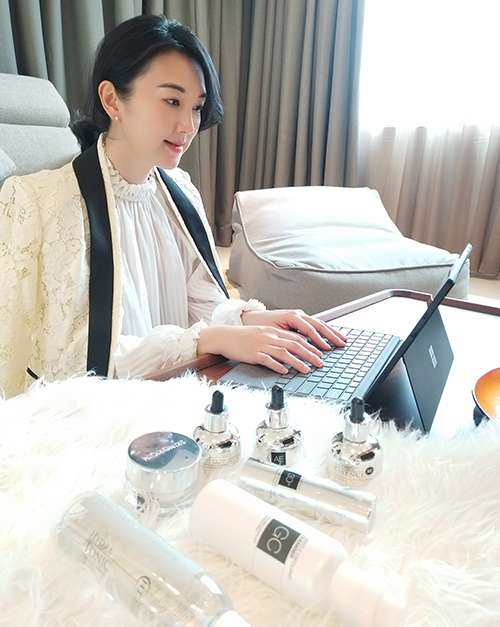 A journey to beautiful skin...

Charise Ho is
the spirit of Beauty Chambre
. Her passion for beauty is well known to many people. She has got extensive knowledge and experience as a beauty therapist and a beauty trainer.
Her passion for beauty started at a very young age, she graduated in Belgium holding a hairdressing & beauty diploma. Returning to Malaysia she continued to enrich her skills in a national aesthetic academy. Her very 1st employment as a beauty therapist was working for Estee Lauder. She was fortunate to have the role as a beauty trainer for several reputable skincare brands and she landed in the most luxurious brand Chanel as a training manager. Today, she continues her passion at her own beauty center. She knows the beauty industry is constantly evolving, she continuously enhances her knowledge by venturing into new skills, treatments, and products to help her clients achieve better skin. All she shares with clients are effectiveness, good qualities, originality, and safety...
Willingness is the first step if we want to achieve beautiful and healthy skin. Without effort and commitment, it will not work...

Never forget that good skin care, a balanced diet and a healthy lifestyle are the best combinations for healthy and beautiful skin. If you have problematic skin, this is an important protocol to follow...

Good skin does not last forever if you do not take care of it.

Use moisturizer and sunblock to delay the appearance of wrinkles and pigmentation spots...unless you like them...really?? No way.

If you have oily, acne-prone and congested skin, you can not avoid a monthly facial to keep your pores clean...

Quality products come at a price, but they also need to be the value we paid for...

Using some skincare is better than none at all...

There are always many ways to achieve healthy and beautiful skin, it is a choice if we are willing to put in the effort and commitment.

Eating healthy

is a journey to beautiful skin...

Exercising

is a journey to beautiful skin...

Using skin car

e is a journey to beautiful skin...

Having a facial

is a journey to beautiful skin...

Feeling happy

is a journey to beautiful skin...
Love our skin, healthy skin will boost our confidence...